On the eve of a transcontinental jaunt, these notes to self: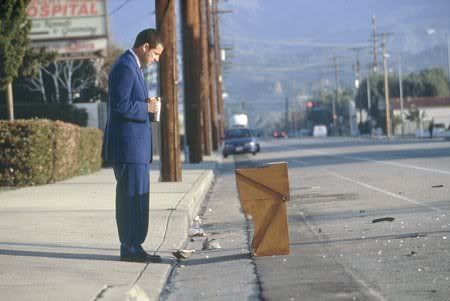 The streets are empty and filled with whimsy.
Paul Thomas Anderson made me think this,
Punch Drunk Love
. I remember thinking, this is the way Southern California feels: flimsy, spacious, bruisey pastels. A little like a forgotten backlot.
They have a vastly superior food scene.
Many things have cause me to think this. Going for Okonomiyaki (savory Japanese pancakes) with a friend and her father when I was a child. My sister's hole in the wall vegetarian Indian place in a strip mall near her house. Reading
Chowhound posts
about Taco Trucks.
Jonathan Gold
's expeditions.
Diddy Reese
.
If accepting J.C. as my personal savior would bring an In 'n' Out to NYC, sign me up.
People, come on. If you'd tried it, you'd know.
Despite NY's superior literary heritage, Angelenos have Miranda July.
How does she do what she
does
without being totally annoying? I don't know. Why can't I be more like her? The jury's still out.
The music scene rules.
Again, this started in childhood, Sean and I driving to the Roxy in his Ford Escort, going to see Lush or the Pixies at the Hollywood Palladium. Now I listen to
Morning Becomes Eclectic
every chance I get. In New York, seeing a show invariably a hassle; in L.A., enchanting singer-songwriters grow on palm trees.
They work
at
Book Soup
.
These ideas I have are crazy. I am a native Southern Californian, and I should know better.
Still...I want my trip to be weird, illuminating, delicious. Look for me at sporting a copy of
No One Belongs Here More Than You
at
Father's Office
.